WWE's Bray Wyatt Unveils New Fiend Face Mask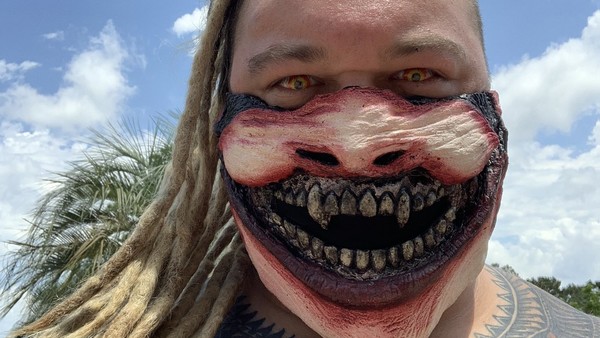 Say what you will about Bray Wyatt and his 'Fiend' character, but WWE's top merchandise mover is at least dealing with the ongoing global health crisis the responsible way.
Wyatt hit social media to reveal the Fiend-themed face mask he has been wearing when going out in public:-
That's about as close to his actual Fiend mask as Bray is going to get while adhering to safety standards, and it is certainly more detailed than the version currently on sale through WWE's official webstore. Just look at this thing.
Will the new version become an actual piece of merchandise? That'll likely depend on its creator. Here's hoping it goes for considerably less than the $7,000 WWE was charging fans for The Fiend's custom Universal Championship belt last year, though.
Wyatt is yet to slot into his next storyline after losing to Braun Strowman at Money In The Bank 2020, having missed the follow-up show, though it's likely that the former allies will resume their rivalry as we head towards Backlash on 14 June. The key point coming out of that bout was that Braun had felled Bray, not 'The Fiend.' He'll probably face Wyatt in full gimmick next.